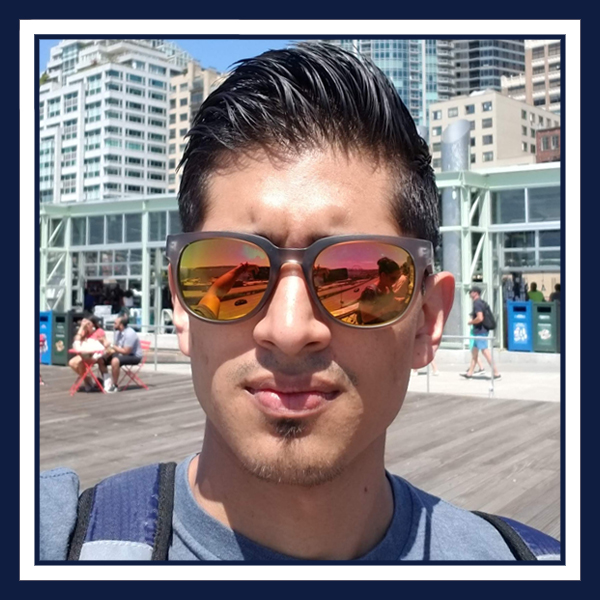 L. ARTURO FONSECA
Department
English as a Second Language (ESL)
Nomination Date
March 09, 2021
Nominated By
Claudia Gray
Nomination Message

As a former ESL student, Arturo understands and knows how to assist new and current ESL students. He patiently assists students, he's an effective problem-solver, he's kind, his communication is excellent, he's responsible and dependable. He transmits his knowledge so that people can learn more about the ESL programs and SRJC student resources.  Luis Arturo provides the necessary and additional remote support to our students so that they can adapt to the online learning environment.  This is not an easy task as many of our students are in the process of learning how to use a computer to take a class remotely while they are also learning and developing English language skills! 

Claudia Gray
ESL Department
INTERVIEW
What did you find to be most rewarding about being a student employee? 
Most rewarding is hearing students say they are really thankful for everything we do for them.
What would you like to tell students who are potentially interested in working at the college as a student employees? 
I highly recommend it especially if you are taking classes, because the schedules are very flexible. 
What did you learn about yourself working as a student employee? Through your employment, have you found your values, sense of community, self-confidence/self-esteem been impacted as a result of your student employment experience? 
Yes, working with older adults I have learned patience. I have been able to find them services at the JC but also in their community as well. I have a passion for helping others since I have been working in the department. (3 years now) 
What have you found the most challenging, part of being a student employee for the department you work in?
When covid started and all the chances happened so suddenly, having to working from home and people struggling with zoom and having to explain to them how it work and how to use it even though we ourselves did not know how to use it very well.
How was it adapting to remote work during COVID-19? How has your supervisor assisted you as a student employee prior to COVID-19 and during COVID-19?
At the beginning it was very difficult especially having to work with our own equipment; having to use my own phone to call students, but now we have the equipment from the JC to help and communication with students, but even though we weren't prepared we got use it. 
Before covid she was always ready to help me and answer any questions. Now we have our personal phone numbers to communicate with each other because she knows how difficult it is. 
How do you think you will use the skills you have learned working as a student employee in future careers?
I found that I really like to help others, and the professional skills and how to be patient which will help me in my nursing career. 
Anything else you'd like to add about your experience being a student employee?
I just really like the department I work in and how everyone is willing to help each other.